My Way with Clay

I believe that tactile relationship with the objects that surround us is particularly important in our age of scrolling and swiping. As an artist I enjoy working with my hands and find satisfaction in the ability to create works that people want to pick up and touch.
I approach ceramics as a form of spiritual practice by finding balance between control and letting go. It is always a challenge to make things look natural and organic as it requires a peaceful mind.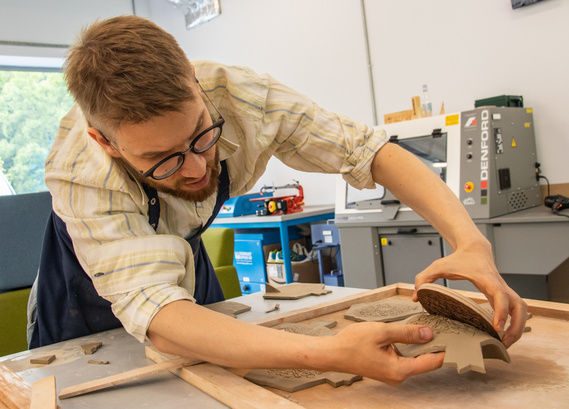 Inspiration
I find that I am most influenced by the aesthetics of Japanese ceramics which emphasizes the beauty of accidents and in which the consciousness of the artist is not so visible. As a ceramicist I reflect on the beauty of my surroundings created through the forces of nature.
My body of work contains ceramic vessels and sculptures with textures that reference the beautiful mountainous landscapes of Armenia. The solidity of rock formations and the ephemerality of the seasons imbue my practice. The techniques I use to make my works encourage the development of various textures on the surface of my pieces, that creep in naturally.
I love both throwing on the wheel and hand building and often use combinations of several making methods.
Clay and Community
I teach international students at United Word College as well as lead workshops for local teenagers and adults in Dilijan. Clay is such a wonderful tool to make links between people of different cultures and walks of life. Working with ceramics helps to relax the mind and creates opportunities for meaningful conversations and studio collaboration. I believe that these experiences have the potential to reach out past the doors of the clay studio, helping to enhance participants' interpersonal relationships in all aspects of their lives.
Yaro Zabavskiy was born in Moscow, Russia. He attended high school in Wales and went on to study Applied Arts in the USA, where he has discovered ceramics and analogue photography.
Currently, he lives in Armenia and teaches Visual Arts at the United World College in Dilijan.
This short video gives an insight into my practice and inspirations that I found in Armenian land.